Imagine Darth Vader without the voice of James Earl Jones.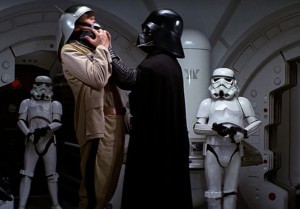 There's a video making the rounds that shows footage from Star Wars before the voice of James Earl Jones was added to Darth Vader's character. The video features the voice of David Prowse, the actor who was actually inside Vader's costume.
You may have seen it across social media sites recently. In fact, I sent it out on my Twitter, Google+, and Facebook feeds earlier this week.
It's pretty funny to hear Darth Vader with Prowse's proper British accent.
If you haven't seen the video, here you go:
Naturally, seeing that has got me thinking about how important the correct voice is to any project featuring  a voiceover.
It's about more than just a good voice
But it's not just about the sound of the voice. It's about how the voice actor delivers the lines. James Earl Jones not only has a great voice, but he knows how to deliver the lines. He's got "acting chops" as they say.
 Here he is in a classic scene from Field of Dreams:
 It's not just about the lines and the voice, it's about how they're delivered. The combination of the lines, the voice and the delivery is what makes it successful.
In that Field of Dreams clip, imagine if Timothy Busfield (Kevin Costner's brother-in-law in that clip) was delivering James Earl Jones lines. It just wouldn't work. As an actor, he might be able to deliver the lines, but a critical piece is missing – the correct voice.
So it's the combination of a good script, a good voice, and a voice actor who knows how to deliver.
Not  every voice  is the "right one"
As a voice-over talent, I realize that my voice isn't right for every script. I could never do a voice for a character like Darth Vader.
So when it comes to auditioning for voiceover jobs, I pass by those that are looking for a voice or style that isn't in my range.  I realized a long time ago that my voice and style was better suited to long-form narration like explainer videos, corporate, industrial and medical narrations, real estate virtual home tours and things like that. I've also done plenty of commercials – but I don't try for "monster truck" type spots.
It may sound arrogant to some, but when it comes to things like narrations and eLearning, I know how to deliver the lines. I know that because I've had clients and producers tell me that frequently. I also know it because I have those clients hire me more than once.
What do you want it to sound like?
If you're a voice seeker and looking to cast a voice for a project, think about what you want the final product to sound like. Don't run out  and hire the least expensive voice talent you can find. Don't hire the first voice talent you come across. Choose the right voice for your production.
I'm always happy to provide a potential client with a  custom audition of a portion of their script so they can decide if I'm right for the project. But I'm not unique in that respect. I don't know of any voice-over talent who refuses to provide a custom audition – it's part of what we do.
Before you make a decision on which voice-over talent to hire, ask for an audition. Send each talent you're considering a short piece of your script. Pick a portion of the script that's the most important part of your project. You'll be able to tell if it's the right voice and the right delivery with only about 30 to 60 seconds of voiceover.
So remember, combine a good script with a good voice from a voice talent who knows how to deliver your script.