It started the day after Christmas.
That scratchy throat. Feeling like I needed to cough.
I tried fighting it, but within a day or two I was completely out of action.
The flu hits hard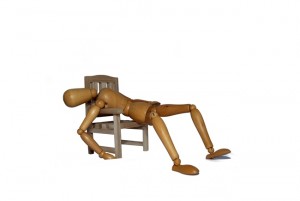 Not just out of action with my voiceover work. Out of action completely. I couldn't do anything but sit on the couch and watch bad TV. Really bad TV.
Two days after I got sick, it hit my wife. We were quite the pair. Sitting on the couch feeling miserable.
I guess that as a voice talent, if you're going to get sick the week between Christmas and the New Year is better than any other. Most of my clients had sent through work earlier in December and the last week of the year was a slow one. I only had to postpone one session at an outside studio.
No one likes sick days
Cold and Flu Season is never pleasant for anyone, but when you make your living using your voice it's especially difficult. A cold or the flu makes your voice sound bad. You sound hoarse and being stuffed up doesn't help either.
Plus, when you're self-employed you don't get to take a sick day and get paid. If you're not working, you're not making any money.
For me, it was a constant cough. No matter what I did I couldn't stop coughing. I was taking cough medicine, using cough drops, but the coughing wouldn't stop. My stomach and chest muscles started to ache from all the coughing.
And all that coughing just made my throat raw and my voice began to sound worse and worse. There's no way to record a voice-over project when you sound the way I did.
Natural remedies
Along with the cough medicine I was taking, I tried some natural remedies.
I tried drinking tea that is supposed to help your throat. It was soothing on some level, but I'm not sure it did much to help my throat feel better.
The tea tasted a little better when I added some honey to it, but again, I'm not sure it did much to help my throat. And it certainly didn't alleviate any of the coughing.
Another thing I tried was acupressure. A few years ago, I stumbled across Acupressure Points for Colds and Flu and some of the techniques actually helped me feel a bit better.
Getting back to normal
I'm finally starting to feel better. I've still got some congestion and have to cough once in a while, but I'm definitely on the mend.
While I'm not at 100% I'm certainly feeling way better than I did a week ago.
And best of all, I'm back in the studio doing what I love to do.