Thanks to Connie Terwilliger for mentioning a site for free production music and sound effects:
http://www.jewelbeat.com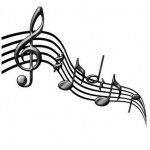 says:
Use these free music tracks & free sound effects for any production – advertising, education, videos, photos, YouTube…etc.
These music tracks can be looped seamlessly & repeated to create a longer music track for your projects.
You only need to link to our website from yours:
"Music by JewelBeat. Download your free music and free sound effects at www.jewelbeat.com."
I've taken a listen to some of what's on the site and it sounds like some good stuff.